Features Installations Hardware Profiles
Ellis Packaging boosts net output with another Koenig & Bauer-Iberica Optima 106 K die cutter
February 27, 2020 By PrintAction Staff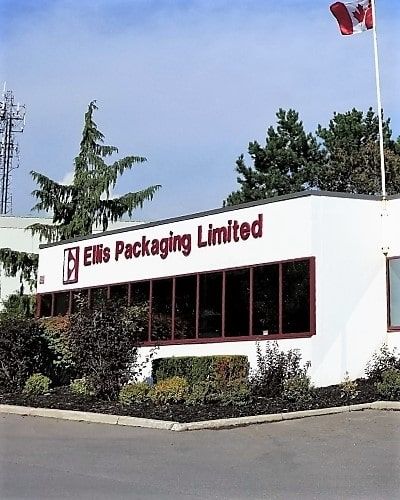 At the modern two-story facility for Canadian packaging specialist Ellis Packaging, a member of the Ellis Group, the country's largest privately-held manufacturer of folding cartons, a wide variety of product formats race through the 85,000-square-foot plant on a daily basis destined for the food, confectionary, liquor, personal care and pharmaceutical industries.
But what sets this manufacturer apart from its competitors is its ability to focus on customer service – new or existing – each and every day.
"Our customers demand short turnaround," said Cathie Ellis, president, who oversees the business along with her brother Dave among three facilities. "To provide that level of quality service, we've invested nearly $15 million in new equipment. Most recently, we added our fourth high-speed Koenig & Bauer-Iberica die cutter here at our Pickering, Ont. facility. Since the installation, we've seen our net output, which factors in press speed, make-ready times, and down time, improve by an impressive 25-30 per cent. Due to the significant improvement in our productivity, we've seen a major increase in the amount of savings because we're not running the die cutters in overtime."
The post-press department at Ellis is critical to its success. Since nearly 70 per cent of Ellis's operation is sheet-fed production, it requires an efficient die-cutting department that is productive and reliable so that it can quickly process orders and move those jobs along into gluing in short lead times. Customer lead time requirements are continuously getting more demanding, Ellis said, and having efficient, reliable equipment in all its operating areas is critical to the firm's success.
According to Ellis, the Optima 106 fulfills all of those requirements. Its operator friendly controls provide ease of handling for the Ellis team. Her operators find the controls to be easier to understand and find all of the functions to handle the machine. "Our operators love it," she said. "Make-ready times have improved due to click lock and other automation."
The Optima 106 K's impressive features contribute to reduced make-ready times and lower operating costs. Some of Ellis's products require very efficient setup times to be cost effective, she explains, and the slick pneumatically actuated quick lock system for locking up dies helps to reduce make-ready times. In turn, she says, the die cutter helps to keep costs low on short run work. Conversely, Ellis has other customers and product formats where vendor managed inventory is part of its value proposition, and subsequently, those run quantities tend to be much longer where speed and press uptime is critical.
Investing in the Koenig & Bauer-Iberica die cutter was an easy decision for the team at Ellis. For more than two decades Iberica die cutters have made major contributions to the growth at Ellis. Replacing an existing Iberica die cutter presented minimal learning curve to the staff. This fourth die cutter follows three new Koenig & Bauer-Iberica Optima 106 K 40-inch die cutters, two for Ellis Paper Box and one for Ellis Packaging. In fact, Ellis Mississauga was the first Iberica-Koenig & Bauer installation.
The new Koenig & Bauer-Iberica die cutter is only the latest in a string of developments at Ellis Packaging. Recently, Cathie Ellis was recognized for her leadership and named Printing Leader of the Year at the 14th annual Canadian Printing Awards, organized by PrintAction and its parent company Annex Business Media. She has worked for the family business dating back to its early days in the 1980s. Over the past 30 years, she has performed many jobs throughout the operation and rose through the company, officially taking the reins from her father Bill in 2010 as president. At the helm of Ellis Packaging today, she continues to direct the company with the same passion, core values, investment and integrity passed down by her predecessor, mentor and father.
"It was truly an honour and quite remarkable to be the first woman to receive the award," she said. "I feel that pursuit of excellence starts with a vision and is executed by quite an amazing team. My father Bill was the best mentor I could have asked for and I have continued to follow his core values and beliefs – invest in your equipment and people and the rest will take care of itself."
Founded in 1946 in Ontario, the Ellis Group is comprised of over 250 employees at Ellis Packaging, Ellis Paper Box, and Ellis Packaging West servicing and specializing in the food, confectionary, pharmaceutical, neutraceutical and beverage industries. Its customers are comprised of some of North America's largest brand name companies.
---
Print this page