Headlines News
Konica Minolta launches AccurioJet KM-1e sheetfed inkjet press
July 13, 2020 By PrintAction Staff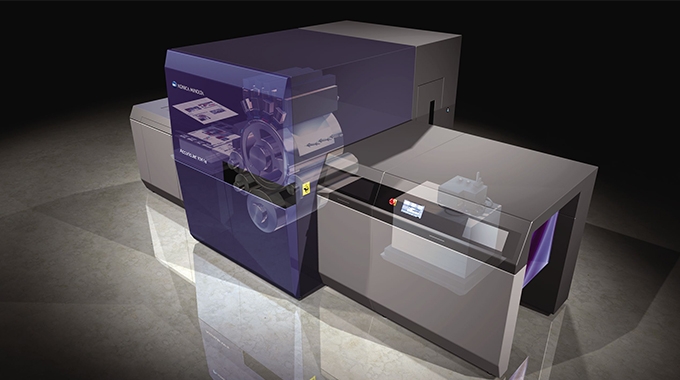 Konica Minolta has set its sights on cut-sheet label applications for the first time with the release of its AccurioJet KM-1e sheetfed inkjet press, the successor to the established KM-1 B2+ LED-UV press for the commercial print market.
Featuring UV inkjet technology, the KM-1e prints, without pre-coating, on a wide range of media, including plastic substrates, foiled and embossed paper, metallic media and synthetic substrates. It will accept paper stocks in a thickness range between 0.06mm and 0.6mm.
The press prints at a resolution of 1200 x 1200 dpi at 3,000 B2+ (585 x 750mm) sheets/hour, with automatic duplex printing at 1,500 sheets/hour.
The KM-1e features a new online interface allowing direct connection to third-party post processing lines. Konica Minolta is working with partner MGI on integrating MGI's JetVarnish digital embellishment equipment with the KM-1e, including digital varnishing, digital cold foil and laser cutting. A tape inserter further provides efficiency in post-processing.
The printer prints in four colours in a single pass. The imaging system uses the company's patented Dot Freeze technology (DFT) to "self-freeze" ink drops immediately upon contact with the substrate. This results in a rapid change in temperature, which turns high-viscosity inks coming from the printhead nozzle into low-viscosity, immobile ink droplet when it touches the material. Konica Minolta says this eliminates mottling and allows printing on porous materials while extending the CMYK colour gamut, reducing the need for special colours.
Konica Minolta says the AccurioJet KM-1e boasts high image durability without lamination, the ability to print on water-resistant media and compatibility with the MGI JetVarnish. "The press is also ideal for wider package printing applications with a paper thickness up to 0.6mm and a wide paper size up to 750x585mm," said Nuno Sacadura, inkjet business development manager at Konica Minolta.
In addition, the press' auto-duplex capability can be used to print booklets to be incorporated into self-adhesive booklet label constructions.
---
Print this page