A recent survey found 78 per cent of respondents believe company performance is improving
July 7, 2023 By Bob Dale
Earlier this year, my company, Connecting for Results, conducted a survey of printers from across Canada to determine how business owners and managers are preparing for the economic challenges that have been mainstream news these days. 
Participants were evenly distributed across small, medium, and large size printers. 
The results were surprising. They were shared at the recently concluded Graphics Canada Expo, held May 11 to 13 in Mississauga, Ont. Below are the highlights.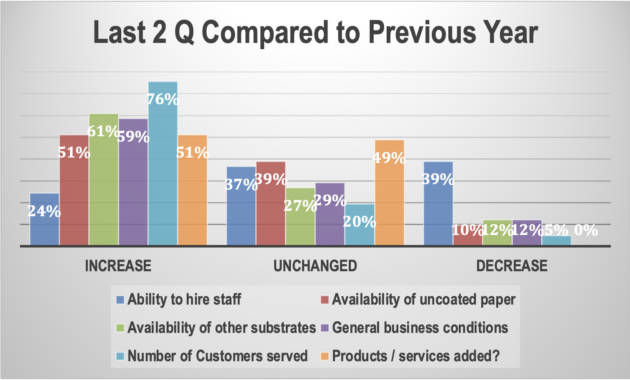 How was 2022 for the industry?
For the last two quarters of 2022, most companies had positive improvements in most categories, including sales revenue, volume, operations, and staffing, compared to the same period a year earlier. 
Note that 76 per cent of respondents increased product prices, over and above material price increases, in 2022. 
This is important, for several reasons. Firstly, all companies faced cost increases apart from material price hikes. It is critical those costs are recovered or offset with expense reductions in other areas. 
For some, the limited availability of paper and substrates made price negotiations easier with customers who were also facing challenges.
While it is no surprise that the availability of paper and other substrates improved, the biggest increase was the number of customers served!
Looking forward
Getting into the details, most respondents expect sales and production volumes to increase. Interesting to notice that production hours worked were not expected to increase to the same degree. Productivity is improving, likely leading to improved profitability. Almost 50 per cent believe they will be able to increase prices, which will increase margins.
Other categories of business conditions do reveal where the respondents expect challenges in the next six months. While the positive trend is moderated for these business conditions, the number of customers served is projected to increase for the next six months. The ability to hire staff and a slight deterioration of general business conditions are expected to create challenges.
Be positive
The leading question asked participants about overall company performance, and 78 per cent predicted that it's getting better. Twenty per cent felt it is 'not changing.' The remaining two per cent believe company performance is decreasing. We can sum this up as, "Don't worry, be happy!" While that may be an oversimplification of sentiment, the reality is that the printing business is challenging, and not everyone will fare as well as indicated in this survey. It takes good information to make smart, informed decisions, and hard work to stay on top. This is often best accomplished with teamwork. That can be from your internal team, personal contacts and family, industry peers and professional advisors. 
We wish you continued success and keep up the positive outlook. 
Bob Dale is the co-founder of Connecting for Results, a recruitment and management consulting company focused on the graphics communications industry. He can be reached at b.dale@cfrincorporated.com.
This article originally appeared in the May/June 2023 issue of PrintAction.
---
Print this page