Features Printing Textile
Mimaki USA launches two new textile printers
January 28, 2021 By PrintAction Staff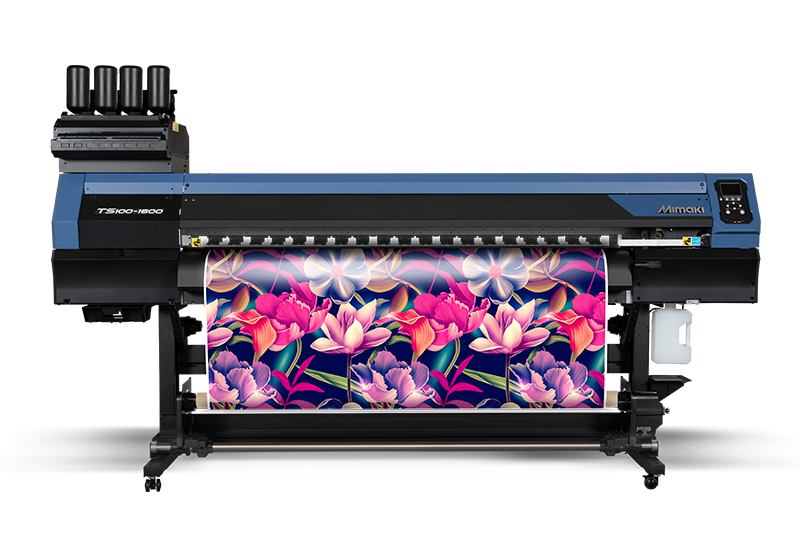 Mimaki USA has announced the launch of two inkjet printers for textile and apparel applications, the TS100-1600 sublimation transfer inkjet printer, and Tiger-1800B Mk III, a high-speed textile inkjet printer with belt conveying system. Both new printers will be available this spring.
The TS100-1600 is an entry-level, high-performance sublimation printer that meets a diverse range of on-demand production. It provides operators with the ability to produce highly detailed, photographic quality prints with a wide array of colours, gradient capabilities and tonal quality with print speeds up to 753 feet per hour.
These sublimation printers can also now use one-liter bottled ink that will help reduce running costs by about half when compared with conventional models, and means less frequent ink replacement.
The printer ships with RasterLink7 and is supported by TxLink4. It has a number of features including Nozzle Check Unit (NCU)2, Nozzle Recovery System (NRS)3, and Mimaki Advanced Pass System 4 (MAPS4).
The TS100-1600 comes with the recent Dot Adjustment System (DAS) feature, which offers automatic alignments to ensure consistent quality. The DAS also frees up time by performing common adjustments automatically.
The Tiger-1800B Mk III is a new high-speed textile production printer featuring the new Mimaki Printer Controller (MPC), a touch-screen operation software that allows faster operation and tighter control of production and quality.
This printer includes the Nozzle Recovery System (NRS) and MAPS4 to ensure consistent, stable and quality printing. 10GB-T Ethernet is also supported for efficiently loading large production jobs.
The Tiger-1800B Mk III combines high productivity with a maximum print speed of 4,144 feet per hour and long operating stability. It features 10kg ink tanks for increased runtimes and lower running costs, allowing customers to choose between high-speed printing for productivity, or high-quality printing for finer detail. Depending on ink type and print mode, four different droplet sizes are available.
In addition, the TxLink4 high-performance RIP software also supports this printer, allowing increased productivity and 16-bit rendering for smoother and more beautiful gradations.
---
Print this page