Features Printing Textile
Mosaica introduces Panthera JR digital dye sublimation system
February 24, 2021 By PrintAction Staff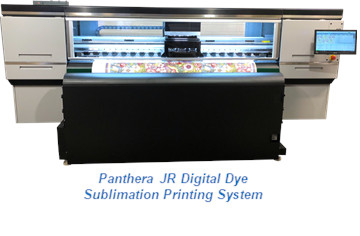 The Mosaica Group, a distributor of dye sublimation and wide format print processes with equipment, consumables and services, has launched the Panthera JR, an industrial 1.9m digital printer for dye sublimation that includes premium features for less than comparable models. The Mosaica Group is a distributor of the high-speed Panthera S4-1.8m and 3.2m digital dye sublimation printing systems in Canada and the U.S.
The Panthera JR is designed to be a more affordable version of the original Panthera S4-1.8m and 3.2m models. Panthera S4 printing systems feature 2x CMYK ink configuration. The optional eight-colour ink configuration provides sharper images, more vibrant colours and richer blacks.
The Panthera JR has four i3200 Epson print heads that achieve speeds of up to 1,900 square feet per hour. Panthera printing systems feature a specially-developed print head controller that provides better precision and print quality, along with an anti-crash system on the carriage to protect the print heads from incorrectly hitting the transfer paper. The machine's roll-to-roll feeding system helps eliminate paper waste, and can even print directly on fabric, in certain applications.
Panthera printers generally require less cleaning and less maintenance requirements. The Panthera JR features a touchscreen operation with an advanced remote-control panel.
---
Print this page