Headlines News
Printing United Digital Experience to host global product announcements
September 15, 2020
By PrintAction Staff
September 15, 2020
---
By PrintAction Staff
Printing United Digital Experience has announced that more than 40 major global product launches are set to take place over the 14 days of the online event, which is running from Oct. 26 to Nov. 12.
The event will represent market segments throughout the industry and offer education, insight and new technology briefings for all attendees, at no cost. The schedule for the event is now available, and registration will be opening up soon.
New technology is expected to be seen from Canon, Fujifilm, Heidelberg, HP, Kodak, Konica Minolta, Ricoh, Rochester Software Associates (RSA), Roland DGA, Standard Finishing Systems, Xeikon and more. In addition, a large number of Printing United Digital Experience participants have also signed on to showcase products at Printing United 2021, set to take place in-person in Orlando in October 2021.
"We built the Printing United Digital Experience as a way to keep the industry united and moving forward as well as provide an elevated stage, as we traditionally do, for companies to debut the products they've worked so hard to bring to market this year," said Mark J. Subers, president of Printing United. "During a year when launching new products has been a real challenge, we are thrilled to learn about the new technology that will be featured on the Printing United Digital Experience platform from companies around the world."
With new market segments being highlighted each week, each day of the event will begin with a special keynote address, followed by education and panel discussions, over 40 on-demand educational sessions, and new product launches or technology showcases each day. The event schedule is as follows: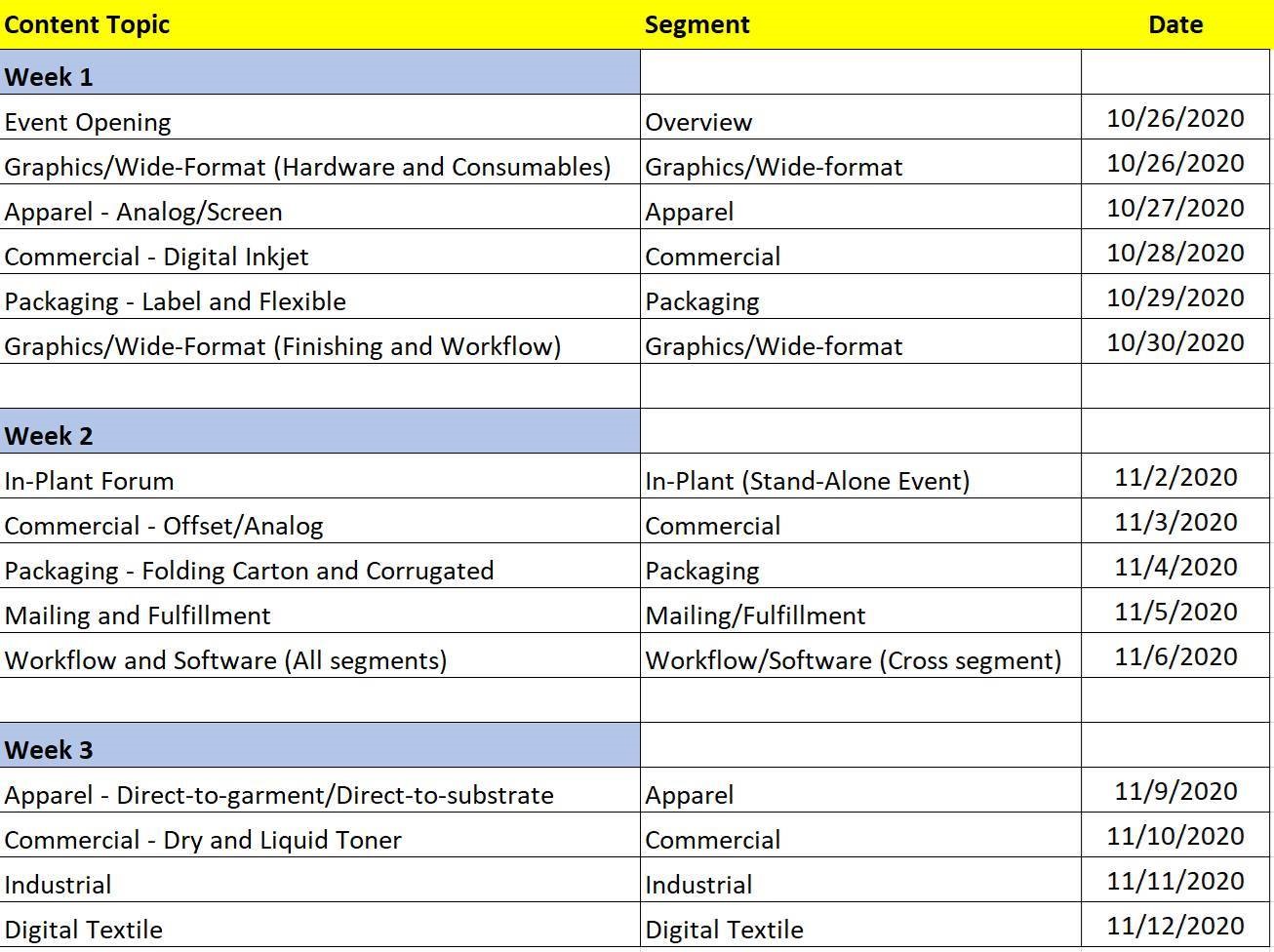 Registration for the event is free and will be announced once it is available to the public.