How one company turned to 3D printing to keep workers safe
April 23, 2021 By Kavita Sabharwal-Chomiuk
Dirk Dorenbos, the founder of Calgary's (Alta.) Ropes Edge and its parent company, Access Anywhere, first became interested in rope access work in 1999, while living in Sheffield, U.K., for two years. This is where his career in the field began, and he met others in the rope trade.
While on a job, Dorenbos, now an Industrial Rope Access Trade Association (IRATA) certified Instructor, Assessor and Level 3, and SPRAT Level 3 and Instructor, decided to look for a better way to safeguard rope access riggings.
"As a veteran in the rope access industry, I understand the importance and the need of trusting your equipment. The greatest hazard in the industry is the constant strain of ropes under tension against sharp or abrasive edges – frayed ropes, in time, can be cut very quickly," Dorenbos explains. "My 20-plus years spent on commercial ropes ultimately revealed the need for a better way to safeguard the riggings that support our ropes."
Dorenbos took to his garage and used a whiteboard to refine his idea, drawing the overall dimensions of the products, and then used clay to shape several iterations of each product. He took his sketches and models to a design firm in Calgary, and together, they spent the next year prototyping, testing and finalizing the devices.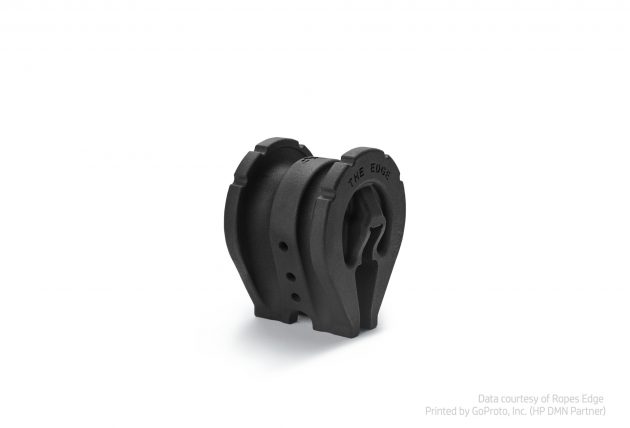 Dorenbos' products, The Edge, Edge 90° and The Vortex, were 3D-printed using PA 12, a nylon, are lightweight and durable, and are in use by rope access technicians around the world.
"The Edge, Edge 90° and The Vortex are rope access edge management systems designed for the rope access and rope rescue industry to protect the ropes and increase the safety of rope access professionals," says Dorenbos. "In industrial rope access, its important ropes are rigged in such a way to avoid contact with potential hot, sharp or abrasive surfaces that threaten the integrity of the life supporting rope access system."
The products were designed to protect a technician's ropes that would otherwise become worn when stretched over sharp and abrasive surfaces, peaks and crowns of structures by workers performing repairs and installations, which could lead to them snapping.
The Edge sharp edge management system is designed for use on varying sizes and depths of "kick-plate" found on industrial and commercial work sites. The Edge has been designed for use with wire rope rigging slings, nylon and natural fibre ropes as a physical barrier to assist in the protection of the slings or rope from coming into contact with the sharp edges of the kick-plate during normal use. When rigging steel rope slings over kick-plate, they are often damaged due to acute "kinking". The Edge mitigates this problem by offering a rounded surface to rest upon. The Vortex is designed for ropes that are rigged through walkway grating and grid mesh. The Vortex was designed for use with nylon and natural fibre ropes as a physical barrier to assist in the protection of the rope system from coming into contact with the sharp edges of steel and composite walkway grating during normal use.
"When starting my business, 3D printing afforded me more opportunities to create reliable products more efficiently," says Dorenbos. "3D printing enabled me to save hundreds of thousands of dollars in overhead costs compared to traditional methods. It also allows us to operate more sustainably and efficiently, only producing products as they are purchased."
Ropes Edge uses HP's Digital Manufacturing Network, a system of HP-endorsed digital manufacturers, to produce and deliver the products. Currently, Ropes Edge products are printed in the U.S., Australia and the U.K., and are shipped to rope access companies and professionals around the world.
"Although there is some work to get a vendor set up to print my products, the partners have been evaluated and qualified based on their end-to-end 3D printing capabilities for production at scale, as well as their manufacturing and quality processes," says Dorenbos. "This means I have assurance on the quality of the products I'm selling."
This article was originally published in the March 2021 issue of PrintAction.
---
Print this page