Headlines News
Unveiling juries of the 17th Annual Canadian Printing Awards
August 4, 2023 By PrintAction Staff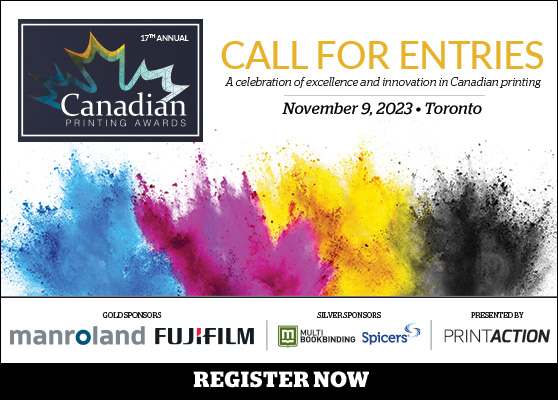 We are excited to announce the esteemed members of this year's Canadian Printing Awards Juries. Two panels of exceptionally talented and experienced professionals will be responsible for evaluating the finest printing projects and technological innovations from across the country.
Printing Categories Jury
The Printing Categories Jury, comprising 11 distinguished judges, boasts an eclectic mix of industry experts, suppliers, entrepreneurs and owners and the academia. These renowned individuals bring with them a wealth of experience and expertise, making them the perfect candidates to select the winners in various printing and print production categories.
Meet the members of the Printing Jury:
Nick Howard
With a lifetime spent in the printing and graphic arts industry, including 47 years of managing Howard Graphic Equipment, Nick Howard possesses an in-depth knowledge of and is fully qualified to offer technical and consultancy expertise to all facets of the printing industry. As president of Howard Graphic Equipment, Howard has been instrumental in most buying and selling decisions, which places his opinion of values in machinery valuations, technical merits and condition in demand. He has also been involved in appraising graphic arts equipment since 1976.
Natalia Lumby
Natalia Lumby is an educator and researcher with a passion for print, packaging, design, and technology. She has been teaching about publishing, packaging, design, management, and communication, at the School of Graphic Communications Management (GCM) since 2008. Her research interests are largely in consumer packaging, strategic communication, and sustainability. Lumby's current research project focuses on business models that support sustainable innovations in packaging.
Todd Cober
Todd Cober has quite literally grown up in the business. From kindergarten to high school, Todd ended his day at the office with his father Peter Cober. Todd started working in the bindery and made his way to the pressroom, which gave him a thorough understanding of the craft of printing. In 2005, he joined Cober full-time in a sales/customer relationship position after earning a bachelor's degree in graphic communications management. Today, Todd is the fourth-generation owner and president of Cober, Kitchener, Ont.
Brian Bako
Brian is the supervisor of marketing and planning for production printing at Canon Canada with a focus on cutsheet toner printing. He has over 15 years' experience in the printing industry including being a GCM graduate from the Toronto Metropolitan University.
Ken Freek
An industry veteran, Ken Freek has significant experience in sales, marketing, operations, automation, change management, supply chain, and logistics. He held the position of VP, product management, at Heidelberg Canada and worked as a project management consultant for Webcom. A print advocate, Freek actively helps to support emerging talent through his role as executive director at Canadian Print Scholarships and provides industry counsel as the associate director at the Ontario Printing and Imaging Association (OPIA).
Stephanie Magill
Stephanie Magill is the owner and president of Apex Graphics. She's worked in the printing industry since the late 1980's and has extensive experience in both the commercial and trade sides of our industry, supporting clients' various printing requirements in the pharmaceutical, medical device, consumer products goods and cosmetics industries.
Joseph Banich
Joseph Banich is product manager for Prinect and Digital with almost 25 years' experience working for Heidelberg Canada. In that time, he grew from a prepress demonstrator to product manager for many of Heidelberg's software offerings. With all this real-world experience, Joseph is a great resource for printers. He also writes a blog for Heidelberg where he discusses various Prinect topics.
Brad Ranson
Brad Ranson is the sales manager for Komcan. Komcan is the exclusive Canadian distributor of Komori and MBO. Brad is entering his 10th year with Komcan. Outside of work, he enjoys working on and driving cars.
Matthew Serwin
A GCM graduate, Matthew Serwin's professional experience includes working at PaperlinX Canada (currently Spicers Canada) as a national technical specialist; graphic arts specialist with a strong focus on colour management and process quality and control implementations; and sales management. Currently, Serwin manages the branch sales activities and team in Southwestern Ontario and the Folding Carton Packaging business for Spicers. Serwin is a member of the Sustainable Mail Group, co-chair of PAC Global's Central Leadership Council, a board member of OPIA and an active supporter of the GCM program.
Aleks Lajtman
Aleks Lajtman is regional sales manager, Canada, at Koenig and Bauer.
Technology and Environmental Categories Jury
The Technology Categories Jury, comprising five esteemed judges, is at the forefront of technological innovation in the printing industry. These accomplished individuals have a deep understanding of cutting-edge technologies and will play a pivotal role in recognizing advancements that have pushed the boundaries of the field.
Meet the members of the technology jury:
Carla Johanns
Carla Johanns has been the president of Simpson Print for over 10 years and recently took over the helms of B2Signs & Events. She has over 20 years of direct experience in the industry driving innovation across all print media. From design through postpress, she has transformed her organization to integrate the most versatility and response to any print challenge. Carla was recently awarded the 2022 Women in Wide Format Awards and continues to actively engage and support the future of the industry on both sides of the border.
Abhay Sharma
Abhay Sharma is a professor in the Creative School, Toronto Metropolitan University, and active researcher in areas of colour imaging science. Professor Sharma has a BS from the University of Westminster and a PhD from Kings College, London, U.K.
Christine Yardley
Christine Yardley is the president and co-owner of Print Panther Direct, an award-winning commercial print shop. Providing a truly integrated creative solution for high-end print, Print Panther Direct has a rich history of being innovators, embracing specialty inks, finishes and embellishments. Christine is also the founder of eatprintlove.com, a resource hub for designers, printers, and anyone else interested in the design and production of print media.
Audrey Jamieson
Audrey Jamieson is the founder and president of Marketing Kitchen, Markham, Ont. After 23 successful years in sales, Audrey decided to take the entrepreneurial leap in 2014 and open her own shop. Recognized by Canada Post as an expert partner, Marketing Kitchen collaborates with clients to find original and fundamentally fresh ways to stand out amongst the swathes of post found in the mailbox. They have experienced incredible growth over the past nine years, which can be attributed to Audrey's relentless pursuit of delivering an exceptional client experience. When not at work, Audrey enjoys yoga, playing tennis and has her sights on playing professional pickleball when she retires. She is the vice-chair of the Unionville Home Society Foundation.
The Canadian Printing Awards team is thrilled to have such an esteemed group of experts as our juries. Their collective knowledge and passion for excellence will undoubtedly set the bar high for this year's submissions and winners.
The awards ceremony will take place on November 9 at the Palais Royale in Toronto where the winners will be revealed and celebrated for their outstanding contributions to the Canadian printing industry.
For more information about the Canadian Printing Awards and to submit your projects, visit https://cpa.printaction.com. The deadline to enter is September 7.
---
Print this page